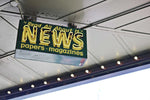 JiMMY! Happenings
This Summer has so far been full of buzz and excitement here at JiMMY! We kicked things off at the Sweets & Snacks expo in Chicago where we premiered our newest high protein-low sugar bars to hit shelves. We also attended the 8th Annual Pawn Stars Poker Run in Las Vegas where Rick Harrison lead the event and a special dinner for sponsors like us! It has been a busy start to the summer for JiMMY!
We started this summer off at the Sweets & Snacks Expo in Chicago, Illinois where we handed out some free JiMMY! samples, merch, and information showing how our protein bars are changing the industry of protein bars. Being amongst the companies that will reinvent the current industry provided us with insight into how we are pushing the world of protein bars towards a more honest approach. Below are some of the memories we made in Chicago! Our mascot was a huge hit with the fans! We hope to see you all again in 2023!
Next, we head off to Las Vegas to attend the 8th Annual Pawn Stars Poker Run which benefits the Hundley Foundation. The Hundley Foundation was founded to help underserved communities, in particular families affected by epilepsy and other disabilities. Our team showed their support by handing out free snacks, sweatbands, and other merchandise to stay cool in the hot Nevada sun! We are honored to help sponsor a worthwhile cause and to hear from the legend himself, Rick Harrison.