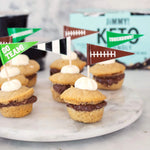 Ingredients:
2 containers Jimmy's keto pudding cups
3 tablespoons chia seeds
1 cup milk of choice
1 cup heavy whipping cream
1 tablespoon stevia
1 teaspoon espresso powder
chocolate shavings or chocolate chips
Instructions:
Add milk, espresso powder, and chia seeds to a small jar. Stir well and place in the fridge for 2-3 hours or preferably overnight.
Make whipped cream by adding heavy cream to a large bowl or stand mixer. Beat with a wire whisk for 2-3 minutes until mixture begins to thicken. Slowly add sweetener and beat until light and fluffy. Place in fridge to set.
When ready to assemble parfaits, remove chia seed pudding from fridge and stir well.
Add Jimmy's keto pudding to a small glass jar, layer with chia seed pudding and whipped cream.
Top with chocolate chips or shaved chocolate.